Why Odoo Quick Module Upgrade App?
When you want to upgrade your module in Odoo, you need to follow a lengthy process. First You need to go the app page and then search for your app and then after selecting the app you need to click the upgrade button and that way your app gets upgraded. Well, now you don't need to follow this lengthy procedure you can upgrade your odoo app easily.
Using our module, you can easily and quickly upgrade single or multiple modules. You don't need to open the App page every time you want to upgrade the module. You can easily upgrade multiple modules at a time. You can also get the list of recently upgraded modules over here and you will get an option to upgrade modules from that list.
How to use Odoo Quick Module Upgrade App?
First of all, you need to install the Quick Module Upgrade app. After you can see the option "Modules Upgrade" in the main menu.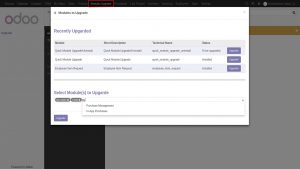 When you click on the "Modules Upgrade" from the main menu, the popup window will appear. In this popup window, you will see the option "Select Module(s) to Upgrade". You can select single or multiple modules that you want to upgrade.

You can get recently upgraded module from the "Recently Upgraded" list.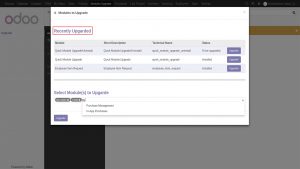 You can also upgrade the module from the recently upgraded module list.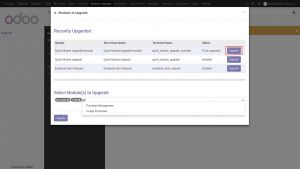 You just need to follow the simple steps as above and your odoo app will be upgraded.
You can download it for free from here: Download